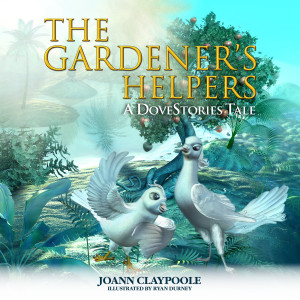 Joann M. Claypoole is the author of DoveStories, a children's chapter book series for ages 5–9. "The Gardener's Helpers" (Morgan James Publishing), is now available online in ebook format, and for pre-orders of the hardcover and paperback versions. The scheduled release date is September 1, 2015. 
Joann has several inspirational stories featured in 5 books in Yvonne Lehman's and Grace Publishing's 'Moments' Anthology series. She recently completed a children's picture book, "Coo Says You Are Loved" for ages 2–5.
Joann co-wrote the TV documentary script, "My Last Hope", for National House of Hope hosted by Candace Cameron Bure (2011). Her inspirational prayers were featured at www.Clickandpray.com and she is now compiling them into two books, "A Surrendered Heart", and "Everything to Me". She has facilitated writing workshops and won the East Lake County Library Poetry Contest ("Ridgecrest Oak") in 2009.
She also writes songs, voice overs, plays, articles, and blogs at joannclaypoole.wordpress.com ~ Dreamdove's Flights Of Fancy.
Joann attends many writing conferences and is a member of Word Weavers International (Orlando Chapter), and SCBWI. She serves local and international missions and loves to sing on the praise and worship team at her local church. She is a wife and mother of four sons, has three grand babies, two crazy canines, and is a salon/spa owner in sunny Central Florida.